CENTRIFUGAL PUMPS- FRAME MOUNTED PUMPS
Frame-mounted pumps are mounted next to a motor on a common baseplate, with the pump shaft and the motor shaft connected by a flexible coupling. The design includes a bearing housing to prolong the life of the bearings and allows for continuous operation with high radial and thrust loads.
Frame-mounted pumps are commonly used for larger applications, where power ratings are anywhere from 20HP to 200HP plus.
These pumps are very durable, and less likely to fail due to excessive movement. Therefore, expect a longer lifetime than close-coupled pumps. Frame-mounted pumps don't need custom motors, giving you more freedom to choose a motor to meet the needs of your application. Mounted pumps are often times the design of choice for continuous service applications.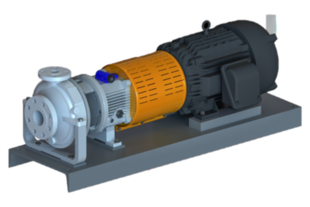 ADVANTAGES
– more suited to continuous duty
– can handle higher horsepower requirements and can accept higher radial and thrust loads
DISADVANTAGES
– require a larger footprint
– may require alignment
– more expensive than close coupled pumps
** Many of Forte Fluid Systems Centrifugal Pumps are a combination of multiple Centrifugal Pump types. For example and End Suction Pump (Between Bearing) that has a Closed Impeller. **