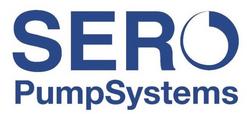 SERO PUMPSYSTEMS
Headquartered in Germany, SERO PumpSystems is the world's only exclusive manufacturer of side channel pumps. Since the issuance of their first side channel pump patent in 1929, SERO has continued to revolutionize the industrial pump industry. Specializing in individually configured pumping systems, SERO has consistently been on the leading edge of side channel pump design and technology.
Sero Pumpsystems side channel pumps generate higher pressures than other types of pumps of a comparable size and power. This makes Sero Side Channel Pumps suitable for applications where liquids need to be pumped across long distances or through small pipework.
In addition to their high heads at low flow rates Sero Side Channel Pumps are also used for applications which benefit from their self-priming capability.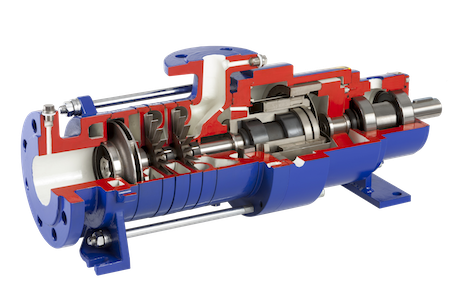 SERO PUMPSYSTEMS- SEMA PUMP- SEALLESS
SIDE CHANNEL PUMP
Low Flow with High Differential Pressure
Entrained gas handling capabilities
Close coupled- No alignment
Zero Leakage with MagDriv
Low NRSH requirements
SERVICES
Low NPSH Charge Pump
Reflux & Off-spec recycle pumps
Refrigerant Supply / Distribution
LPG Bottle Filling
Scrubber Bottoms Pumps
SCR Ammonia Injection Pumps
TYPICAL PROCESS LIQUIDS
Volatile, high vapor pressure fluids
LPG: Propane, Butane, Isobutane
Refrigerants & Propellants: Propane, Hydro -fluorocarbon refrigerants, CO2
Light crude oil and other light hydrocarbon process fluids
Specialty chemicals: Butadiene, styrene, caustic, light acids
Ammonia: Anhydrous and Aqueous Amine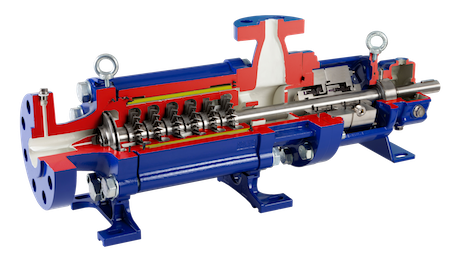 SERO PUMPSYSTEMS- SHP PUMP- HIGH PRESSURE LOW NPSH
SIDE CHANNEL PUMP
Rugged multi-stage pump with barrel design. (Secondary containment!)
Low, low, low NPSH requirements! (1' to 4')
MAWP: 1450 PSI. High suction pressure? No problem!
Flow range: 3 – 38 gpm
Entrained Gas / Vapor Capability. Upwards of 40%!
SERVICES
Low NPSH Charge Pump
Off-spec Rerun Pump
Amine Injection
De-propanizer Recycle
Scrubber Bottoms Pump
Pipeline Booster Pump
TYPICAL PROCESS LIQUIDS
Volatile, high vapor pressure fluids
LPG: Propane, Butane, Isobutane
Amine
Crude Oil
Condensate
Light hydrocarbon pipeline mix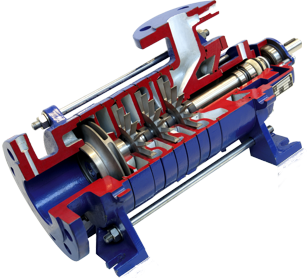 SERO PUMPSYSTEMS- SRZS PUMP- LOW NPSH
SIDE CHANNEL PUMP
Exceptional Differential Pressures Developed at 1750 RPM
Hydraulic Flexibility – Low Flows with High Head
Steep Performance Curves for Precise System Control
Ability to Pump Vapour Laden (up to 50%) Process Fluids
Low NPSH Requirements to Prevent Cavitation
SERVICES
Low NPSH Charge Pump
Reflux & Off-spec recycle pumps
Refrigerant Supply / Distribution
LPG Bottle Filling
Scrubber Bottoms Pumps
SCR Ammonia Injection Pumps
TYPICAL PROCESS LIQUIDS
Volatile, high vapor pressure fluids
LPG: Propane, Butane, Isobutane
Refrigerants & Propellants: Propane, Hydro -fluorocarbon refrigerants, CO2
Light crude oil and other light hydrocarbon process fluids
Specialty chemicals: Butadiene, styrene, caustic, light acids
Ammonia: Anhydrous and Aqueous Amine