CIRCOR- HEAT TRANSFER PUMPS
Pump Projects is a dealer, parts distributor, service center and packager for CIRCOR pumps. CIRCOR is a world leader in the manufacture of positive displacement pumps and related technology for use in the commercial marine, defense, industrial, oil and gas, and power-generation industries. Our extensive product line includes industrial pumps, injection pumps, transfer pumps, specialty centrifugal pumps, and rotary screw pumps (two-screw, three-screw, and progressive-cavity).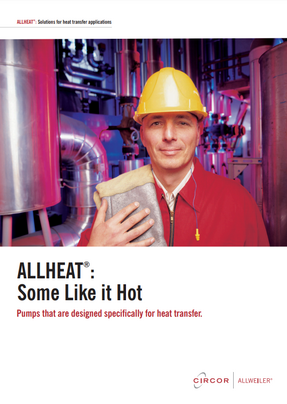 CIRCOR is redefining what's possible in Heat Transfer applications, collaborating with engineers and operators like you to develop the best fluid-handling solutions for your application. With its ALLHEAT series, is defining a new ® generation of handling heat transfer fluids. The ALLHEAT series is one of the few pump designs on the market that (with absolutely no changes!) can pump thermal oil up to 400 °C/75 °F, or hot water up to about 207 °C/ . In addition, ® ALLHEAT can also be used with modern very-low-viscosity synthetic thermal oils with virtually no limitations.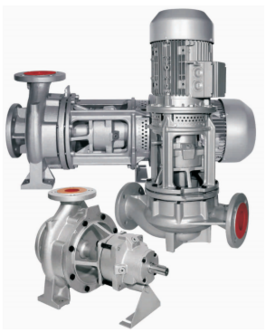 NTT SERIES
Designed to be Robust, Economical and Rapidly available

Reliability

Maintenance free

Energy efficiency

Individually adapted for high delivery heads

Safety

Long service life
VERSION AVAILABLE
NTT

 

series with a separetely-coupled motor and volute casing with foot attachment on a base plate
NBT series in a directly-coupled block version, set up vertically or horizontally
​NIT series in a directly-coupled inline version, set up vertically or horizontally
The NTT, NBT and NIT product series are ideal for moving mineral-based thermal oils. Their mechanical seals are locatedbehind a heat barrier, where they are protected from high temperatures. The result is that simple standard gaskets (antimony-carbon/SiC) have a very long service life when used in the pumps. All three types are also available as twostage versions with the same external dimensions, making them ideal for small flow rates with high delivery head.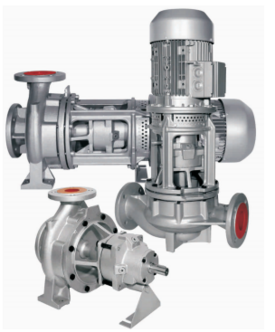 Pressure safety

Stability and durability

Low maintenance

Long service life

Operational safety

Flexibility

Efficiency
VERSION AVAILABLE
NTWH
NBWH
NIWH
CTWH
CBWH
CIWH
You choose from six variations: coupling, block, and inline versions each with two pressure stages (for PN16 and pump dimensions according to EN 733 or for PN 25 and dimensions according to ISO 2858). Two bearing-seal combinations are available: an unrelieved all-round mechanical seal with a carbon-antimony bearing or a relieved heavy duty seal with a silicon carbide plain bearing
The ALLHEAT series gives plant operators centrifugal pumps that were designed specifically for high-temperature applications employing low-viscosity heat carriers like synthetic thermal oils and hot water. These pumps have unrivalled versatility; they forgo external cooling and are extraordinarily durable in continuous operation. Very little heat is lost by the entire system and maintenance intervals are usually longer than twelve months even when operated continuously under difficult conditions. The CBWH and CIWH series are the world's only block-type pumps with an air-cooled shaft seal that pump hot water above 183 °C/361 °F without external cooling. Due to their maximum oil temperature of 400 °C/752 °F, CTWH, CBWH, and CIWH 350°C/662 °F are also ideal for modern applications like solar power stations.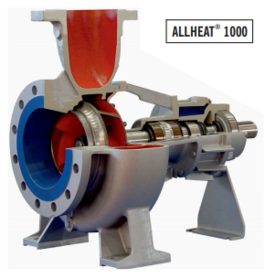 ALLHEAT 1000 SERIES – FOR HIGH PERFORMANCE
High-performance centrifugal pumps are specially designed for pumping thermal oils in heat-transfer systems at up to 400 °C/ 752 °F and across great distances and/or in large volumes. For example, at 50 Hz and a speed of 2,900 1/min, it achieves 3 ® a capacity of 1,000 m /h/4,403 gpm and a delivery head of 80 m/262 ft. The maximum capacity of the ALLHEAT 1000 is 3 1,450 m /h/6,385 gpm, maximum delivery head is 105 m/344 ft, and maximum working pressure is 25 bar/ 363 psi.
​Like all ALLHEAT pumps, ALLHEAT 1000 does not require external cooling. It is characterized by a variety of innovative features. Instead of using larger-diameter impellers, the pump is specifically designed to achieve its performance characteristics at higher speeds of up to 2,900 1/min.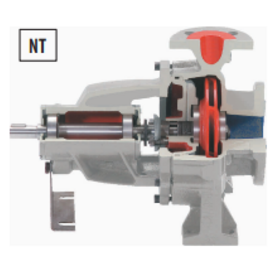 The three series of standardized pumps (NT, NI, and NB) are ideal for pumping only hot water at 100 °C/212 °F or less. They merge reliability with low lifecycle costs and an attractive initial investment. When equipped with a special shaft seal, these series are also suitable for hot water up to 140 °C/284 °F.The pumps are available with a bearing bracket (NT), as a directlycoupled block (NB), and in an inline version (NI). The NB and NI versions can be installed vertically and horizontally. 
​Like all ALLHEAT pumps, ALLHEAT 1000 does not require external cooling. It is characterized by a variety of innovative features. Instead of using larger-diameter impellers, the pump is specifically designed to achieve its performance characteristics at higher speeds of up to 2,900 1/min.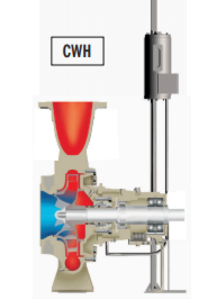 ALLHEAT CWH pumps are specially designed for chemical plants and chemical applications, particularly for circulating heat-carrier oil or hot water in primary closed loops of large® heat-carrier distribution systems.The hydraulics of ALLHEAT CWH are dimensioned for high delivery heads with capacities 3 between 500/2,202 and 1,200 m /h/5284 gpm. For this reason, this pump is the right choice when you need to supply complex heat-carrier circulation systems with many secondary closed loops.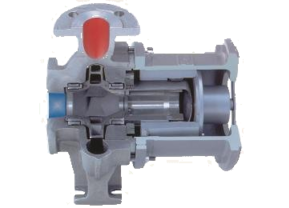 ALLMAG – HERMETICALLY SEALED CENTRIFUGAL
PUMPS WITH MAGNETIC DRIVE 
Economical

Operational Safety

Maintenance free

Wear resitant

Saves energy

Robustness

Safely move toxic

Environmentally hazardous

Odorous heat-carreir liquids
With pump types CMAT (block version) and CMIT (inline version) you can economically and safely cover a variety of operational conditions. This innovative design contains no shaft. The benefits are outstanding heat dissipation, a high tolerance against solids in the liquid, gentle pumping action and minimal stress on the bearing.
​Baseplate versions of the high-performance CNH-ML pumps are designed to handle previously insurmountable pumping challenges. These pumps are ready to take on extreme requirements. Their extraordinary insensitivity makes them reliable performers under the most difficult conditions, including, for example, low viscosities, stagnating liquids, and liquids contaminated with large amounts of solid particles.