API-676 SCREW MULTIPHASE PUMPS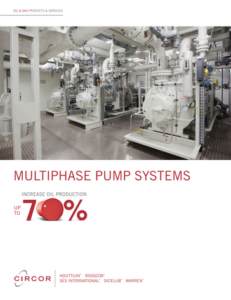 CIRCOR® Multiphase Pump Systems
Our Two-Screw Multiphase pump systems have been used to pump crude oil in pipelines and on wellpads for over 20 years. The systems efficiently utilize one pump to boost complete, untreated production flows (mixture of oil, gas, condensates, water and/or solids) through multiphase gathering pipelines. The systems simplify surface facilities, eliminating infrastructure associated with separation and independent water, gas and oil gathering systems. Additionally, systems deployed on wellpads reduce well backpressure, increasing oil & gas production.
SCREW PUMPS WORKING PRINCIPLE
One or Two Pairs of Screws, which operate without being in contact with each other, ensure a constant flow, pulsation-free, together with a high suction lift capability with very low NPSH values.
The Screws Pair rotates inside the Pump Enclosure, creating several separate chambers and pushing the fluid trapped inside in accordance with the progression of the screws pitch.
The flow rate is particularly uniform and pulsation-free, and the pumped fluid flows in an axial direction (not circumferentially, as it happens in the centrifugal pumps).
Fluids that are sensitive to shear forces or turbulent flows are subject only to very limited stresses during the pumping phase:
Thanks to the absence of pulsations, to the low flow internal velocities, to the minimization of the centrifugal movements and to the absence of contact between the screw rotors, the pumped product does not suffer of changes of volume, texture, aspect and properties.
Thanks to the low inertia of the rotating parts, the Screw Pumps can work at rotating speeds higher than other Positive Displacement Pumps of equivalent volume chambers.
SCREW PUMPS ADVANTAGES
Self Priming
They ensure a constant flow, pulsation-free
High Suction Lift Capability – the pump NPSH being very low
Suitable to pump fluids with low, medium, high and very high viscosity.
Very well suited to pump very viscous liquids, sensitive to shear forces and turbulences thanks to the low Internal velocities given by the screws movement.
Low Noise Level and Low Vibrations
The Screws are Contactless and Wear out is minimized
Flow can be reversed (reversibility) in low pressure applications, upon request
Entrapped Air or Gas in the Liquid are tolerated up to 50-60% volume (multi-phase service on request)
Capability of Dry Running for a limited period and in particular conditions
Compact Design and Dimensions
Capable of Operating at High Angular Speeds thanks to the screws low inertia, allowing a high range of flow rates if the pumps are driven by a Variable Speed Drive or by an Inverter
Constant Flow regardless pressure changes (in particular when viscous fluids are pumped)
Capability of handling a Wide Range of viscosities and pressures
APPLICATIONS
– CRUDE OIL (RAW OR REFINED)
– CRUDE OIL MIXED WITH WATER
– CRUDE OIL MIXED WITH WATER AND GAS
– ALL TYPE OF HYDROCARBONS, LIGHT AND HIGH VISCOSITY (FROM GASOLINE TO BITUMEN)
– OIL / WATER EMULSIONS, INCLUDING SLOPS, PRODUCED WATER
– CHEMICALS (METHANOL, INHIBITORS)
SCREW PUMPS –INFLUENCE OF VISCOSITY
– LOW VISCOSITY FLUIDS EFFECTS:
Backflow (Slippage) increasesà LOWER DIFFERENTIAL PRESSURE LIMITATION
Volumetric Efficiency decreases à LOWER CAPACITY
Less friction losses / Higher Mechanical Efficiency
Speed should be increased up to 1450 – 1800 rpm (or even more)
It is not recommended to run the pump at low speeds with low viscosities (limited differential pressures and capacity)
– HIGH VISCOSITY FLUIDS EFFECTS:
Backflow (Slippage) decreases à HIGHER DIFFERENTIAL PRESSURE POSSIBLE
Volumetric Efficiency increases à HIGHER CAPACITY
Higher friction losses / Lower Mechanical Efficiency
Speed should be decreased to low speed in order to fill up the chambers without formation of vacuum in the suction
It is not recommended to run the pump at high speeds with high viscosities (risk of malfunctioning of the pump because of vacuum in the suction)
– FLUIDS BEHAVIOUR:
NEWTONIAN FLUIDS: Viscosity is not influenced by the shear force

Viscosity remains constant when the fluid flows through the pump
NON-NEWTONIAN FLUIDS: Viscosity is influenced by the shear force (time dependent viscosity
Viscosity drops if higher shear is applied when fluid flows through the pump FLUID TEXTURE MAY CHANGE AFTER SHEAR IS APPLIED
– SHEAR SENSITIVE FLUIDS:
SOME NON-NEWTONIAN FLUIDS
EMULSIONS (water+oil, water+oil+air)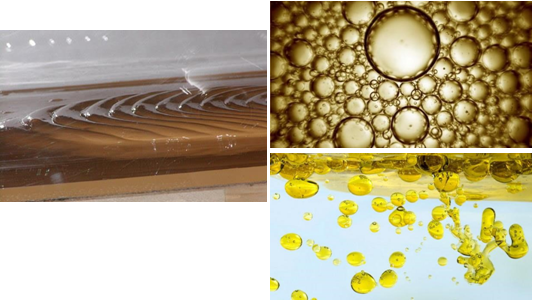 SCREW PUMPS HANDLE THE FLUID WITH A LOW SHEAR :
The main part of the fluid is pumped with an axial movement (not centrifugal, not turbulent), without acceleration and with low shear
The small part of the fluid that back flows through the gaps between screws and liner is pumped with higher shear

CENTRIFUGAL PUMPS OR OTHER HIGH SHEAR PUMPS
 
 
(example Gear Pumps)
 
 

HIGH SHEAR / TURBULENCE CAUSES FOAM when oil/water emulsions are pumped;

Light hydrocarbons may become gas when depressurized.

 

Foam decreases productivity and may cause downtime. SCREW PUMPS AVOID THE FORMATION OF FOAM AND INCREASE PRODUCTIVITY

 
 
GAS HANDLING
Twin Screw Pumps can handle a reasonable percentage of Gas dissolved in the liquid
Depending on the application, they can handle up to 50% gas
An analysis of the application shall be executed in order to confirm suitability:
Type of application (Upstream or Downstream)
Availability of all the Process Parameters
How the Gas is mixed in the Fluid: Dissolved? Gas Bubbles? Gas Slugs?
 HANDLING SAND PARTICLES
Twin Screw Pumps can handle a small quantity of sand dissolved in the liquid.
It is important to know the Sand Particle Size Distribution.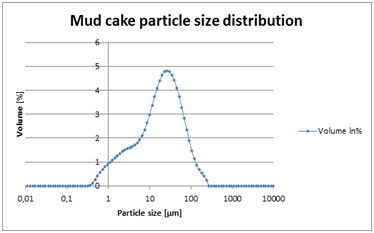 The Sand Particles will increase wear on the screws / liner. The pump performance may lower due to increased clearance that increases backflow.
It is not possible to predict the wear out caused by sand particles, but some actions can be taken during offer and design stage:
Examples: – Hardening of Screws and Liner (including Tungsten Carbide Overlay)
Replaceable Liners
Increased clearances between screw/screw and screws/liner
WORST CONDITIONS FOR PUMPING SAND PARTICLES:
Fluid Viscosity is Low
High Pump RPMs
Higher Differential Pressures
Percentages of Solid Particles higher than 0,01% in volume
Pumping low viscosity liquid with sand particles at high speeds increases sensitively the abrasion effect
PUMP PERFORMANCE MAY DECREASE QUICKLY
Frequent maintenance and spare parts replacement
It is important to select the right pump execution and materials
SELF PRIMING
Twin Screw Pumps are Self Priming if the internal chamber is wet (slightly filled with fluid)
Twin Screw Pumps (except FMH hygienic pumps, that are self-draining) are designed to retain some liquid inside the pumping chamber
DRY RUNNING
Twin Screw Pumps, thanks to the non-contacting screws, can run dry
Standard mechanical seals will heat up quickly during dry running:
Select proper facing materials of the mechanical seals
For longer dry running periods, select quenching on double mechanical seals
SCREW PUMPS – SUCTION & NPSH
Twin Screw Pumps have high suction lift and low NPSHr pumps.
Generally, Centrifugal Pumps have worse suction lift.
The Fluid enters the Pump Suction Flange and, because of frictions and hydraulic effects (changes of flow, turbulences etc.), the hydrostatic pressure of the fluid drops down.
If the Fluid Pressure in a major cavity of the pump drops down the vapor pressure, then the liquid will vaporize (formation of vapor/gas bubbles in the liquid).
SUCTION LIFT PERFORMANCE DEPEND ON:
PUMP CONSTRUCTION: Geometry of the Chamber and Suction Port
PUMP SPEED: Higher Speed = Higher Vacuum on Suction = Higher NPSHr
PUMP CAPACITY: Higher Capacity on the same pump = Higher Hydraulic Losses = Higher NPSHr
FLUID VAPOUR PRESSURE: fluids with high vapour pressure need pumps with Lower NPSHr to avoid cavitation
CAVITATION
If the Pressure in any part of the Pump Chamber falls below the Fluid Vapour Pressure, the Fluid will vaporize (formation of bubbles of gas/vapour inside the liquid).
Inside or downstream of the pump, because of the pumping effect, the fluid pressure will be over the Vapour Pressure again, and the gas bubble will implode suddenly and become liquid again. This implosion is very fast and a multitude of collapsing bubbles generates a noise similar to Cracking or Small stones passing inside the piping.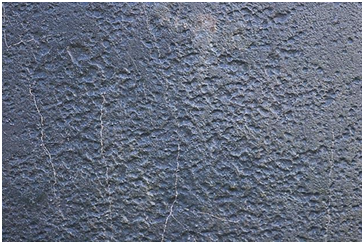 EFFECTS OF CAVITATION ON CENTRIFUGAL PUMPS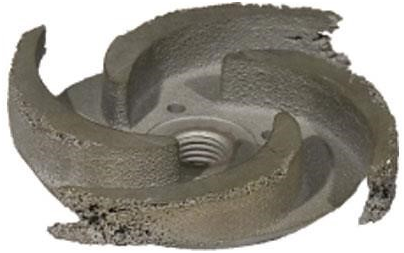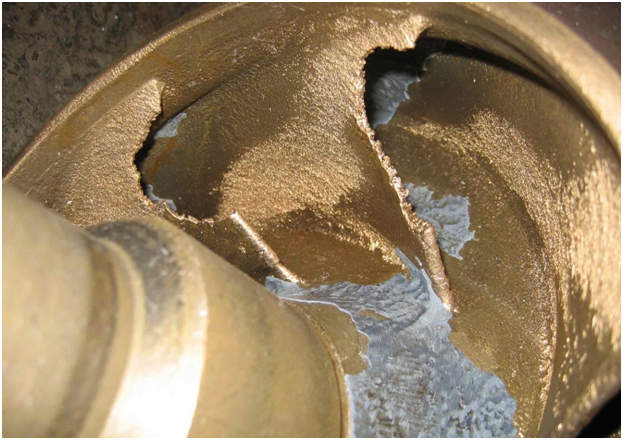 NPSHr = Net Positive Suction Head required
This is the Minimum Head required by the pump, calculated at the Suction Flange, to avoid Cavitation at a certain Flow Rate and with a certain Fluid.
NPSHa = Net Positive Suction Head available
This is the difference between the Pressure at the Suction Flange of the Pump and the Fluid Vapour Pressure
To avoid Cavitation, NPSHa must be higher than NPSHr:  NPSHa > NPSHr
How to improve (=increase) NPSHa: Reduce Friction Losses and Hydraulic Losses
examples:
Larger Diameter Piping
Reduce Piping Elbows
Smoother rugosity values of the Piping
Less Valves (or Full Bore Valves)
Reduction of the Velocity of the Fluid and avoidance of Turbulent Flow
Avoid changes of diameter of the Piping
Position of the Pump below the suction tank (example, in an underground Pit) How to improve (= lower) NPSHr:
Select a pump with low NPSHr (for example, a Twin Screw Pump)
Select an optimal geometry of the Pump Suction
Run the pump at the optimal speed (=not too fast speeds)
Select a pump slightly oversized for the required flow rate Very good realistic values of NPSHris approximately 1.5 meters